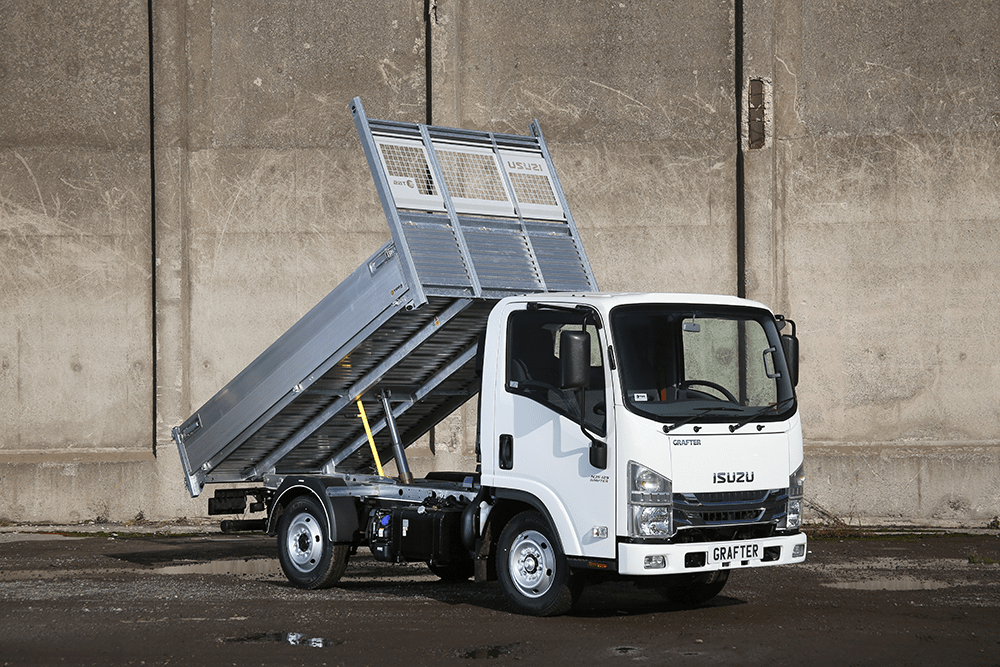 Isuzu Grafter Trucks For Stone Masons
The Isuzu 3.5 Grafter Green has an outstanding reputation for providing masonry companies with the tools they need to complete the job at hand.
The footprint of the Isuzu Grafter Green is compact, meaning it can easily navigate stone yards, particularly those which are short on space.
Drivers have noticed improved fuel efficiency and have commented on the versatility and flexibility the Isuzu Grafter Green offers when driving on the roads. The excellent payload capacity of the Isuzu Grafter Green is a real selling point for those operating stone masonry businesses.
What it the Isuzu Grafter Green like to own?
As a lot of scaffolding is being transported which is often a two or three man operation, the Isuzu Grafter Green really comes into its own, offering comfortable cab space and maximum payload capacity.
The Isuzu N35 features a tipper body meaning the heavy loads can easily be extracted from the rear of the truck in tight stone yards.
The Grafter Green model includes a new energy efficient Euro 6 engine which does not require any Ad Blue to be added to the tank, saving time on additional driver maintenance checks.
Uniquely, the Isuzu Grafter also has three individual toolboxes. The tipper body itself houses a full-length toolbox down one side, within the body, that houses any long equipment, whilst externally there is a cab mounted toolbox, which holds all the various ropes and road signs. The third toolbox is mounted underneath the body and is where all the heavy chains are kept.
These features are designed to keep workers and pedestrians safe during transportation and when manoeuvring around the stone yard.
The Isuzu Grafter Green cab is available in a choice of two colours, either flint grey or white and the 4 x 2 chassis cab rigids are available as either single or twin rear wheel configurations, providing improved weight savings and a much smoother ride in general.
The new Isuzu Grafter Green also features improved torque, which is ideal for stone masonry operations where the payload is likely to be at capacity on a regular basis.
The significant weight reductions have a positive impact on the efficiency and offer real cost savings to fleet owners.
The Grafter Green provides improved visibility and suspension, making it feel more like a car than a truck to drive. There is also plenty of storage options in the Grafter Green to accommodate the tools the crew will need with them.
Other benefits of owning an Isuzu Grafter Green truck:
Improved visibility, ideal for stone yards
Reduced weight capacity and efficiency
No requirement for AdBlue
If you are operate a stone masonry company and you are looking to bring a new Isuzu truck into your fleet, we would be happy to help you select the right truck for your needs. Stone masons are already reaping the rewards of bringing the Isuzu Grafter Green into their fleet so come and take a test drive and see what it can do for your business.
When you purchase an Isuzu truck from Warrington Isuzu, you can benefit from 3 year unlimited mileage warranty, 24 hour emergency assistance and award-winning Isuzu CARE programme.
Latest News