3.5t Isuzu Grafter N35.125 Truck - Isuzu Trucks, Warrington
MODELS IN THIS RANGE: 'N-Series' N35.125 | N35.150 | ISUZU GRAFTER 3.5 TONNE TRUCKS
The award-winning Isuzu Grafter is one tough little truck.
The Isuzu Grafter, also known as the Grafter , is an award winning 3.5 tonne truck, designed to excel in efficiency, durability and reliability. Weighing just 3.5 tonne, the Isuzu Grafter is the lightest ruck in the Isuzu range.
Who would the Isuzu Grafter 3.5 tonne truck suit most?
The 3.5 tonne Isuzu Grafter N35 truck is a light truck that's more than capable of handling a busy workload. Builders, landscape gardeners, arborists, tree surgeons and construction workers rely on the Isuzu Grafter to pull its weight on site day in, day out, and its performance more than lives up to its name.
The configurable Isuzu N35 Grafter
There are two models in the Isuzu Grafter 3.5 tonne truck range: the 1.9 litre, 125PS Isuzu N35.125 and the 3.0 litre, 150PS Isuzu N35.150. Isuzu Grafter trucks are capable of towing upto 3.5 tonnes and come with single or twin rear wheels with. The Grafter is available as either a tipper or dropside with short lead times as part of our Driveaway range.
The recent introduction of the new Isuzu Grafter N35.125 Grafter models brings a new efficient Euro 6 engine without the requirement and with the additional benefits of; increased carrying capacities, improved drivability, handling and comfort, whilst retaining the infamous 'workhorse' attributes the Grafter range is known for.
About the Isuzu Grafter N35 3.5 tonne truck
The new high-performance engine is designed and engineered to offer improved power, more fuel efficiency, and the ability to operate in new London ultra-low emission zones, meaning fleet managers can keep their operating costs down. Investing in a brand new Isuzu Truck can be more cost efficient that purchasing a second hand, especially if your drivers will be travelling in Low Emission Zones.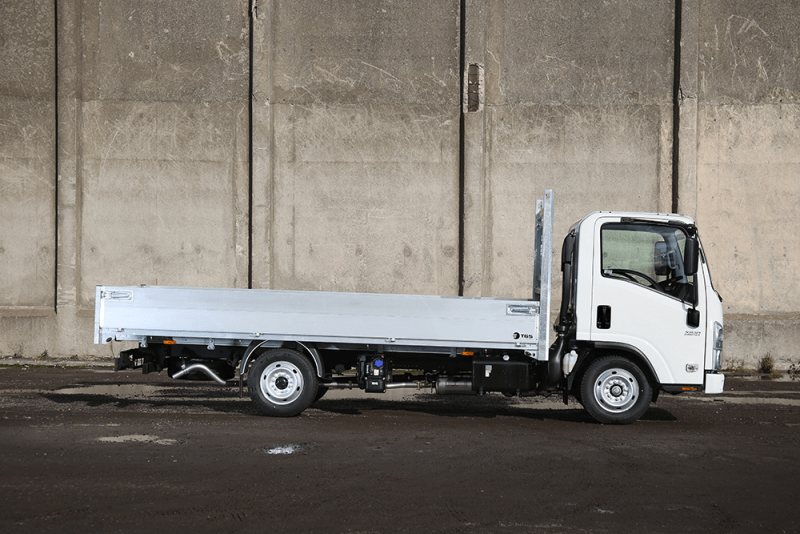 Benefits of the Isuzu N35.125 Grafter
The Isuzu Grafter has a rear engine cover which reduces the noise output as well as protecting the engine components. The reduced noise makes this model more suited to residential areas.
The driveability is also much more improved, with a 6 speed manual or Automatic gearbox, an improved clutch for better application and a twin wishbone coil spring system.
What's more, the complete 3.5 tonne Isuzu N35 Grafter truck range can tow upto an impressive 3.5 tonne, giving a mighty 7 tonne total combination of vehicle and trailer and with Isuzu 3 Years Unlimited Mileage Warranty, 3 Years Isuzu Assist & Award winning CARE programme, the Isuzu N35 Grafter range is a serious proposition.
Types of Isuzu Grafter
The Isuzu Grafter is available in the following specifications:
Isuzu Grafter Dropside
The Isuzu Grafter Dropside model is available with 4 x 2 rigid chassis cab with twin rear wheels and a dropside body, making it ideal for applications that need to access the load area quickly and easily. The maximum trailer weight of the dropside models is 3,500kg, making it incredibly efficient in heavy duty applications.
Isuzu Grafter Dropside features:
Flame resistant trim
Vinyl floor matting
Pillar mounted entrance grab handles
Driver and passenger airbags
Large foldable mirrors
Deep cut side windows to reduce blind spots
Electric windows
Double wishbone front suspension
Semi-elliptical steel rear suspension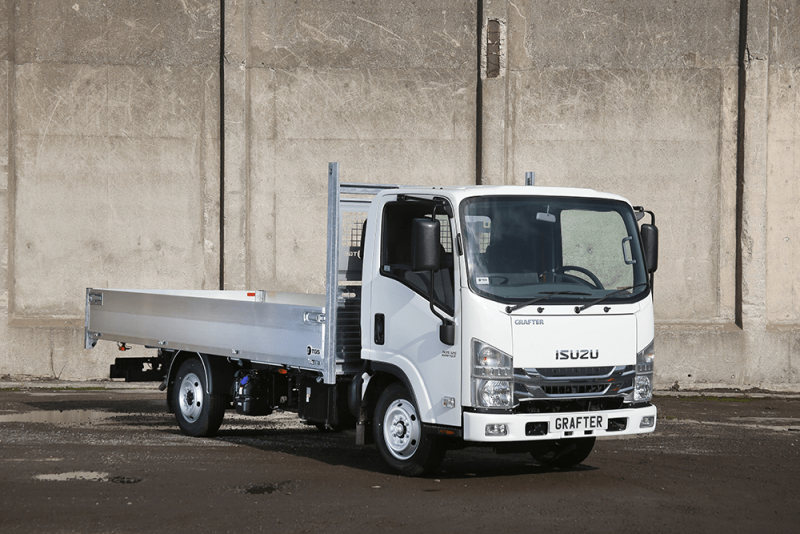 Isuzu Grafter Tipper Body
For more heavy duty construction or building site applications, the Grafter Tipper Body model makes light work of unloading materials at the site. The trailer can hold a maximum weight of 3,500kg, making it suitable for most heavy duty applications or those that require driving across rough terrain.
There is a manual or automatic option depending on your requirements, with the automatic best suited to driving in built up city or town environments where you have more going on around you, or in busy building sites. The Isuzu Grafter tipper comes with dual airbags for additional safety and a hexapod cab that is aerodynamic.
Isuzu Grafter Tipper body features:
Flame resistant interior trim
Vinyl floor matting
Pillar mounted entrance grab handles
Double wishbone front suspension
Tilt and telescopic steering column
Cab complies with ECE-R29 strength standard
Tinted windscreen
Non-slip entrance steps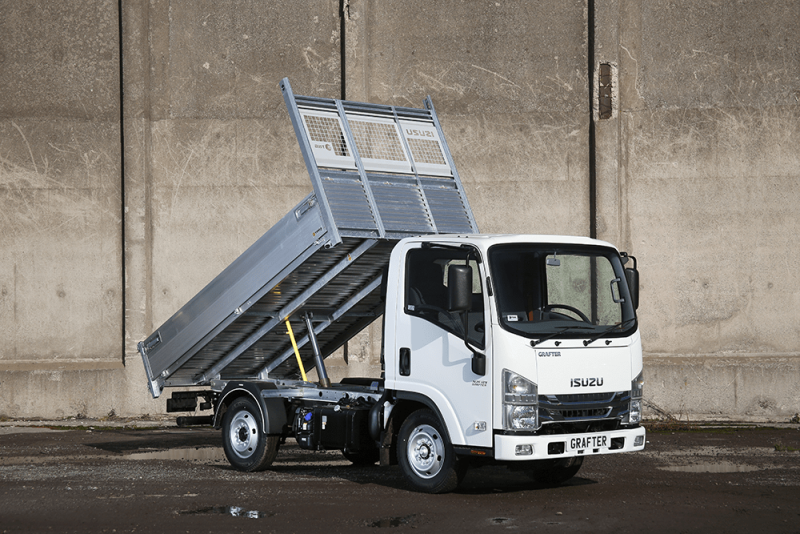 Isuzu Grafter features
With the Isuzu Grafter, you can benefit from a range of features and specifications:
Cab colours - white or flint grey*
Keyless entry
Updated interior trim
Euro 6 engine
Rear engine cover to reduce noise and protect engine components
5 & 6 speed manual gearbox
There are also a range of optional features, which include:
Air conditioning
Certified tow bar
Reverse buzzer and speed beacon switch off units
Handbrake alarms
Speed limiters
Need a tipper truck?
The Isuzu Grafter N35 is ideal for a range of applications and industries, including Tree Surgeons who use the tipper version, but there's also another tipper truck in the Isuzu range, the N75.
Industries and applications that could benefit from the Isuzu Grafter N35:
Arboriculture
Building
Distribution
Food & Drink
Haulage
Highways
Hire & Rental
Landscaping
Recovery
Recycling
* Model specific