Isuzu Truck Dealer at Warrington Isuzu, Cheshire
Isuzu Trucks By Weight
The world's leading commercial truck diesel engine manufacturer of Isuzu Trucks 3.5 Tonne - 13.5 Tonne
Isuzu trucks are known for their reliability, durability, and versatility, making them a popular choice among businesses in various industries. The Isuzu trucks available in the UK are no different, offering a range of features and benefits to meet the diverse needs of its customers.
Isuzu Trucks are incredibly reliable and every truck comes with Isuzu's Care Programme benefits, which include a 3 year unlimited mileage warranty, 2 year warranty on all genuine Isuzu truck parts and 24 hour emergency assistance, so if anything does go wrong, you'll be back on the road in no time.
As a result of Isuzu's mission to become the global leader in commercial vehicles, companies in over 120 countries now rely upon Isuzu trucks to carry out their day-to-day business operations.
Isuzu Tipper Trucks are ideal for easily unloading cargo around construction sites and transporting loads between different sites. Isuzu vans and Isuzu trucks are renowned for their longevity, impressive payloads and small footprints, the latter making them ideal for the urban environment.
Here at Warrington Isuzu, we are a main Isuzu truck dealer for both commercial trucks and Isuzu D-Max pickups, covering the whole of the United Kingdom.
Isuzu N35 Truck
The Isuzu N35 Grafter 3.5t truck is a tough, rugged and reliable workhorse that comes as either a tipper or dropside model and are a great option for construction or landscaping functions.
The Isuzu Grafter is designed for those who need to transport goods in urban areas. This truck is equipped with a small and agile chassis, making it easy to maneuver in tight spaces. The Grafter is also equipped with a range of safety features, including a lane departure warning system and a reversing camera.
Isuzu N55/N65 Truck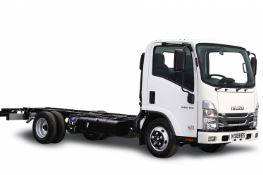 The Isuzu N55 and N65 5.5t and 6.5t trucks, available as narrow or wide cab is a compact yet versatile truck, ideal for operations where it is a requirement that heavy duty items are delivered.
Isuzu N75 Truck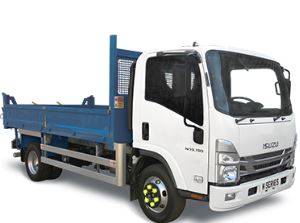 The Isuzu N75 7.5t is an incredibly versatile truck designed to accompany many industries from fleets and large businesses.
Isuzu F110/F135 Truck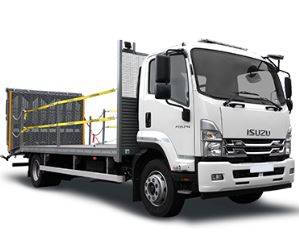 The Isuzu F110 and F135 11t and 13.5t models are ideal for transporting items in refrigeration units such as chilled or frozen produce.
Companies of all sizes, across many different industries, including agriculture, tree surgery and multi-drop delivery trust Isuzu Trucks to help grow their businesses.
| Isuzu Truck Models | N35 | N55/65 | N75 | F110/135 |
| --- | --- | --- | --- | --- |
| Engine Power | 120 PS | 150 PS | 150/190 PS | 240 PS |
| Payload Capacity | 3.5 tonne | 5.5/6.5 tonne | 7.5 tonne | 11/11.5 tonne |
| Transmission | Manual/Automatic | Manual | Manual | Manual |
| Cabin Options | Single/Double | Single | Single/Double | Single/Double |
| Fuel Efficiency | Excellent | Good | Very Good | Excellent |
| Safety Features | ABS, EBD | ABS | ABS, EBD, ESC | ABS, EBD, ESC |
Isuzu Refrigerated Trucks
Isuzu offers a range of trucks that are suitable for refrigeration purposes, catering to the needs of businesses in the food and beverage industry. These trucks are specifically designed to transport temperature-sensitive goods, such as fruits, vegetables, meat, and dairy products, while maintaining a consistent temperature.
One of the popular refrigeration trucks offered by Isuzu is the F110.240 Fridge Truck. This truck is equipped with a powerful engine and a spacious cargo area, allowing for the transportation of a large quantity of goods. The F110.240 Fridge Truck is also equipped with a range of features, such as a temperature recorder and an alarm system, ensuring that the cargo remains at the desired temperature and is secure throughout transportation.
Isuzu Tipper Trucks
Isuzu offers a range of tipper trucks that are designed for heavy-duty use in various industries, including construction, mining, and agriculture. These trucks are built to handle tough terrain and heavy loads, making them a reliable and efficient option for businesses.
One of the popular tipper trucks offered by Isuzu is the N75.190 E Tipper. This truck is equipped with a powerful engine and a robust chassis, allowing it to handle heavy loads with ease. The N75.190 E Tipper also comes with a range of features, such as an automatic transmission and a hydraulic lifting system, making it a safe and easy-to-use option for businesses.
Another popular tipper truck offered by Isuzu is the N35.125 Tipper. This truck is designed for smaller loads and tight spaces, making it ideal for businesses that need to navigate through narrow streets or congested areas. The N35.125 Tipper is equipped with a compact yet powerful engine and a lightweight body, making it fuel-efficient and easy to maneuver.
Isuzu also offers a range of customisation options for their tipper trucks, allowing businesses to tailor the trucks to their specific needs and requirements. These options include different body sizes and configurations, as well as additional features such as a tow bar or a crane.
Whatever your trade, Isuzu Trucks can help you build and grow for years to come. If you are looking for a commercial truck, visit your local Isuzu Trucks dealer, Warrington Isuzu, who would be happy to help you find the right vehicle.