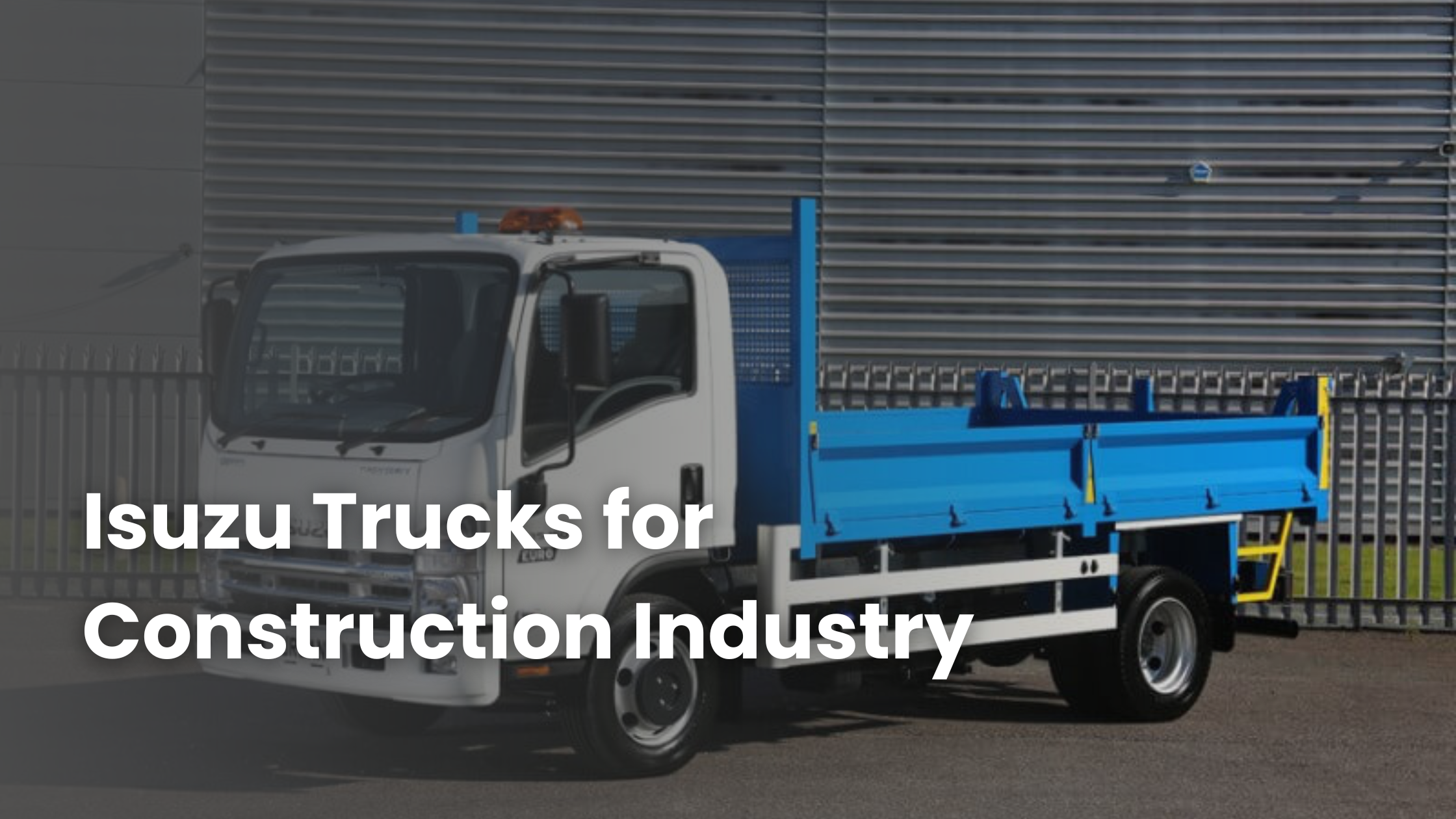 Why Isuzu Trucks Are the Perfect Choice for Construction Industry
In the fast-paced world of the construction industry, having reliable and durable vehicles is crucial for the success of any project. One brand that consistently stands out is Isuzu Trucks.
With their exceptional performance, unmatched reliability, and a wide range of features tailored specifically for construction needs, Isuzu trucks have become the perfect choice for the construction industry.
Key Features of Isuzu Trucks
When it comes to selecting the ideal trucks for the construction industry, several key features play a pivotal role. Isuzu trucks excel in these aspects, making them the perfect choice for construction professionals. Let's take a closer look at these features.
1. Robust Construction
Isuzu trucks are built to endure the harshest conditions on construction sites. The chassis and body of Isuzu trucks are constructed using high-quality materials that ensure exceptional strength and durability. These trucks can handle heavy loads, rough terrains, and challenging weather conditions with ease.
2. Powerful Engines
One of the primary requirements for construction vehicles is a powerful engine that can deliver optimal performance. Isuzu trucks are equipped with high-performance engines that provide ample power and torque, enabling them to handle demanding tasks effortlessly. The engines are designed to be fuel-efficient, reducing operational costs and environmental impact.
3. Versatile Configurations
Isuzu offers a wide range of truck configurations to cater to diverse construction needs. Whether you require a tipper truck, a concrete mixer, a crane truck, or a flatbed truck, Isuzu has you covered. The versatility of Isuzu trucks allows construction professionals to choose the configuration that best suits their specific requirements.
4. Advanced Safety Features
Safety is paramount in the construction industry, and Isuzu trucks prioritize it. These trucks are equipped with advanced safety features such as anti-lock braking systems (ABS), traction control, stability control, and airbags, ensuring the well-being of the driver and the cargo. Additionally, Isuzu trucks undergo rigorous safety testing to meet the highest industry standards.
5. Enhanced Maneuverability
Navigating through construction sites requires excellent maneuverability. Isuzu trucks are designed with a focus on maneuverability, allowing them to negotiate tight spaces, narrow roads, and crowded work areas efficiently. With their compact design and responsive steering, Isuzu trucks provide unmatched maneuvering capabilities.
The Benefits of Choosing Isuzu Trucks for the Construction Industry
Selecting Isuzu trucks for construction projects offers numerous benefits that contribute to increased productivity, cost savings, and operational efficiency. Let's explore the advantages of opting for Isuzu trucks in the construction industry.
1. Reliability and Durability
Isuzu trucks have built a reputation for their exceptional reliability and durability. With their robust construction, these trucks can withstand the rigors of construction sites, reducing downtime due to breakdowns and repairs. This reliability ensures that construction projects stay on schedule, minimizing delays and maximizing productivity.
2. Increased Payload Capacity
Isuzu trucks boast impressive payload capacities, allowing for efficient transportation of construction materials, equipment, and machinery. The ability to carry substantial loads in a single trip reduces the need for multiple trips, saving time and fuel costs. Construction professionals can maximize their efficiency and productivity by utilizing the superior payload capacity of Isuzu trucks.
3. Fuel Efficiency
In the construction industry, fuel costs can significantly impact the overall project expenses. Isuzu trucks are designed to be fuel-efficient, optimizing the utilization of every drop of fuel. The integration of advanced engine technologies and aerodynamic designs helps minimize fuel consumption, resulting in substantial cost savings over the lifetime of the vehicle. Construction companies can benefit from reduced fuel expenses and lower environmental impact by choosing Isuzu trucks.
4. Low Maintenance Costs
Maintenance costs can eat into a construction company's budget if vehicles require frequent repairs and replacements. Isuzu trucks are known for their low maintenance requirements and high durability. The quality craftsmanship and robust components ensure that Isuzu trucks can withstand the demanding conditions of construction sites without experiencing frequent breakdowns. This translates to reduced maintenance costs and increased uptime, allowing construction professionals to focus on their projects without worrying about vehicle reliability.
5. Comfort and Driver Satisfaction
Construction professionals spend long hours on the road, making driver comfort a crucial factor in vehicle selection. Isuzu trucks prioritize driver comfort by offering ergonomic designs, spacious cabs, and convenient features. The well-designed interiors provide a comfortable working environment, reducing driver fatigue and enhancing productivity. Isuzu trucks also incorporate intuitive controls and advanced technology to make the driving experience smooth and enjoyable.
6. Excellent Resale Value
Isuzu trucks hold their value exceptionally well in the resale market. The combination of their reputation for reliability, durability, and performance makes them highly sought after by buyers even after years of use. Construction companies can benefit from this strong resale value, as it helps offset the initial investment in Isuzu trucks and provides a good return on investment in the long run.
Isuzu trucks have established themselves as the perfect choice for the construction industry, offering exceptional performance, reliability, and versatility.
With their robust construction, powerful engines, advanced safety features, and fuel efficiency, Isuzu trucks excel in meeting the demanding requirements of construction sites.
The benefits of choosing Isuzu trucks extend beyond increased productivity and cost savings; they also provide driver comfort, low maintenance costs, and excellent resale value. When it comes to selecting the ideal trucks for construction projects, Isuzu stands out as the brand that construction professionals can rely on.
if you are looking to add a tipper truck to your fleet, get in touch with Warrington Isuzu who would be happy to help guide you through the process.
Latest News