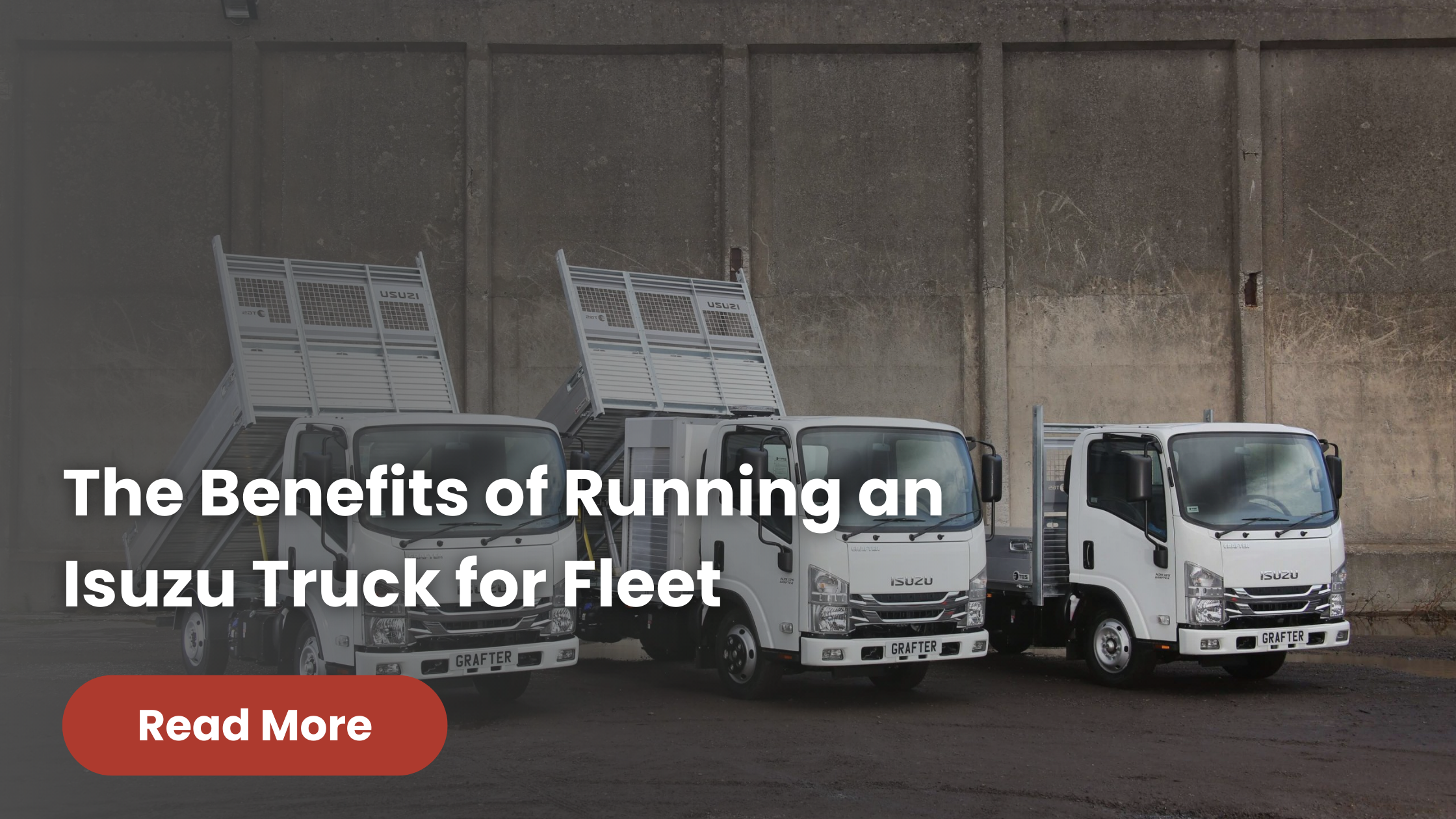 The Benefits of Running an Isuzu Truck for Fleet
If you are in the market for a new or used truck for your business, you may be comparing trucks from different manufacturers to see which is the best option for you and your fleet.
Here at Warrington Isuzu, we thought we'd make it as easy as possible to see the benefits associated with owning an Isuzu truck.
Isuzu understands that the success of a company can be determined by their fleet vehicles ability to perform, which is why Isuzu launched their Customer Care Programme, which was developed around the challenges real customers face.
The Isuzu CARE programme is made up of a range of aftersales components that benefit you, the fleet manager, as well as your customers.
As part of this Programme, all Isuzu trucks come with 24/7 roadside assistance and 3 year, unlimited mileage warranty. Any genuine Isuzu truck parts come with a 2 year warranty so you can be confident that when you buy a New Isuzu or genuine parts from Warrington Isuzu, you get complete peace of mind.
Isuzu Truck Reliability
When running a fleet, whether locally or nationally, you need to have complete trust in the vehicles that they will deliver when needed. Isuzu Trucks are designed to perform in some of the most challenging environments, road surfaces and terrains. Because Isuzu are so confident that their trucks can cope with anything life throws at it, they offer a three year warranty as standard and 24/7 roadside assistance.
Payload of Isuzu Trucks
Payload is incredibly important when choosing a new Truck for your fleet and all Isuzu trucks are engineered to accept maximum payload capacity. This means you can reduce the amount of journeys you make, giving you back time and reducing your transportation costs.
Low cost of ownership
By investing in a truck from a manufacturer that has both credibility and is trustworthy, you will reap the rewards in the longevity of the vehicle and part of that is the low cost of ownership. By owning an Isuzu truck, there is less chance of anything going wrong, which means repairs and downtime are kept to a minimum.
For complete peace of mind, you can sign up to Isuzu's R&M and Warranty package, which allows you to spread the cost when the time comes to replace parts or make minor repairs. By paying a monthly fee for this package, you will have access to parts and labour when you need it, at no additional cost to you. Not only this, your fleet will be looked after by Isuzu trained technicians who know the trucks inside out.
If the time comes for you to need a replacement part, Isuzu parts are easy to come by and can easily be sourced by Warrington Vehicle Centre for you.
Low Emission Isuzu Trucks
Isuzu Trucks are now Euro 6 compliant meaning they benefit from a huge reduction in the charges associated with low emission zones such as Central London. The money saved paying the low emission zone charges and switching to an Isuzu truck could eventually pay for itself outright.
Low emission zones are being rolled out across the United Kingdom and most large towns and cities are in the pipeline, soif you have a fleet of older trucks operating in low emission zones, now is the time to switch to a brand new Isuzu fleet, saving you money from day one.
Comfortable and safe
All Isuzu trucks are packed with driver assist aids and comfort features so make all-day travelling a doddle. The Isuzu range is designed to drive like a passenger car, with easy handling, excellent visibility and plenty of storage space, giving the driver plenty of room to sit comfortably in the driving seat.
If you are due an upgrade across your fleet, get in touch with us here at Warrington Vehicle Centre and we would be happy to show you around our Isuzu trucks so you can understand just how good they really are. Take a test drive and be amazed how much better an Isuzu fleet will be for your business.
Latest News