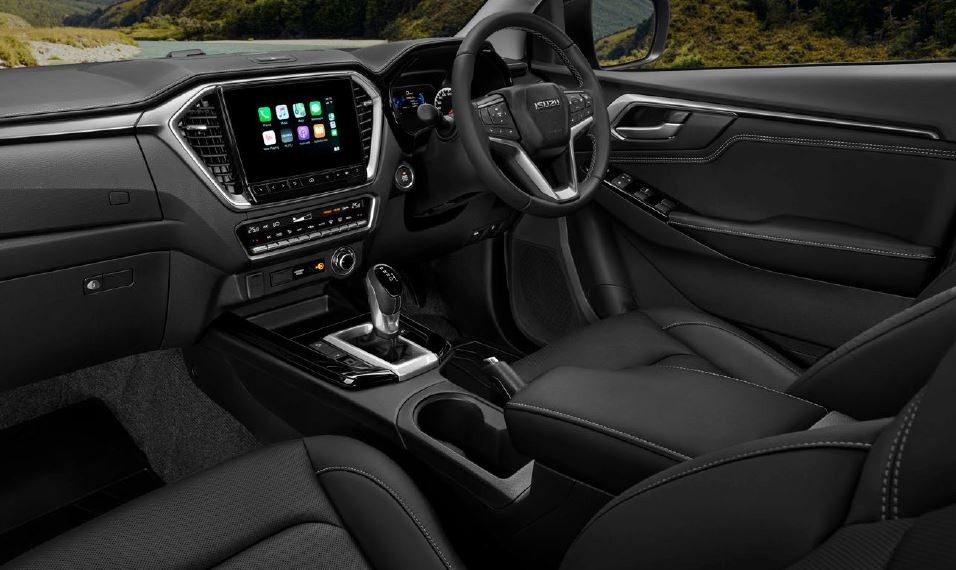 Isuzu D-Max Interior Features
When it comes to upgrading to a new pickup truck, knowing what interior features you get can really make the decision for you, especially if you are comparing multiple options.
The Isuzu D-Max range is packed with features, including innovative safety assist technology designed to keep you safe on the road, especially in remote areas.
This is why we have outlined all the Isuzu D-Max interior features, so you can see the full options available to you before you make your decision.
Seats
Having the choice between the cloth and leather upholstery tailors the seats to your specific needs, whether you want the soft comfortable cloth or the cooling and easy to clean leather option.

The heated front seats are comfortable and warming, especially in the cold months where you might be working during the early morning or late at night.
The drivers' seat has lumbar support; manual on the DL20 Extended and power on the DL20 Double and DL40.
Entertainment
In the centre console of the DL40, you will find a 7" multifunctional colour touchscreen with Apple CarPlay and Android Auto as standard.
All models come with Bluetooth connectivity, and you can opt for either a CD Player (DL20 Extended and Double) or DAB Radio (available on all models).
There's USB ports so you can charge your devices whilst you are on your travels.
Safety Features
There's more to the technology inside the vehicle than just the entertainment system – there's also wide range of safety features that are designed to keep you as safe as possible whilst out on the road.
With an intuitive information display located in the line of sight behind the steering wheel, the D-Max will display speed limits, from the Traffic Sign Recognition feature.
There's also a blind spot monitor which displays an orange warning light on the wing mirror so you know not to change lanes until it is safe to do so.
If you're driving on a busy motorway, the autonomous braking feature will ensure the brakes are applied to the right level to prevent an accident.
Climate control
There's dual zone climate control so you can set different temperatures on the air conditioning system to suit everyone's need and comfort levels.
If you would like to test drive an Isuzu D-Max to see the interior features for yourself, speak to your local Isuzu dealer, Warrington Isuzu.
Latest News