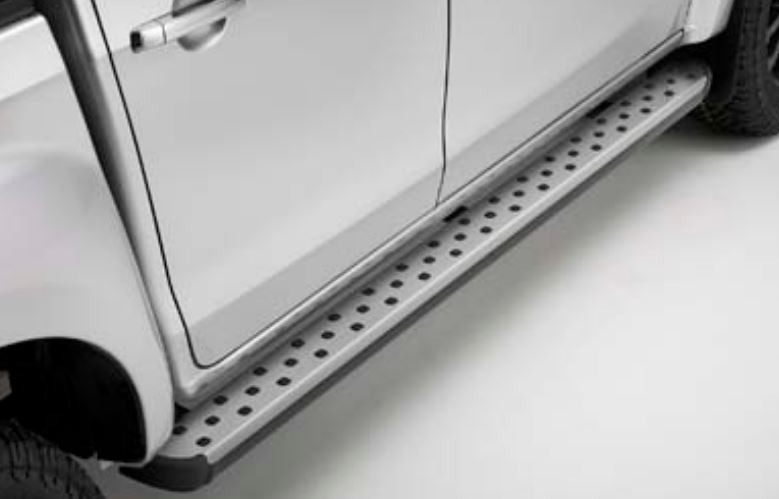 Isuzu Accessories – Complete Guide
As a dedicated Isuzu dealer, we want to provide you with an in-depth guide of the Isuzu accessories you can purchase to further enhance your Isuzu D-Max pickup truck.
Alloy Wheels
Although you can take advantage of the alloy wheels that come as standard across the DL20, DL40 and V-Cross (silver, two-tone or gun metal) you may want to bring additional style onto your new Isuzu D-Max. Isuzu do offer a range of alloy wheels that aren't included as standard, which includes diamond cut silver, matt grey and black, depending on your preferences.
Exterior Styling
Isuzu have a wide range of exterior accessories that can make it much easier to get the job done and also add small styling finishes for that more unique look and feel.
Electronic Side Steps
If you opt for the electronic side steps, when you open the door, the electronic side step will gently fold down so you can easily access the cab. Once the door is closed, the side step will automatically fold away.
Heavy Duty Side Steps
If you want to opt for something stronger that you might be using more frequently, the heavy duty side steps are made of high grade stainless steel so can handle regular use and heavy boots.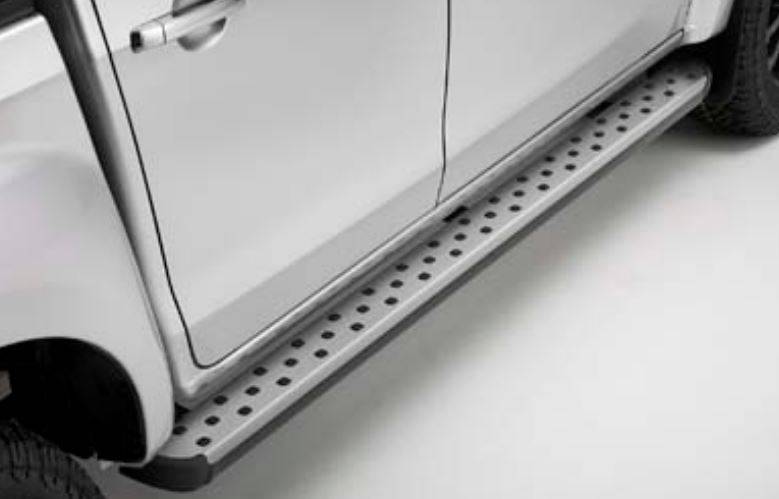 Exterior Protection
If you are often driving on rugged terrain, you might want to consider some exterior protection to keep your D-Max from getting damaged in the elements.
Underguard Protection
If you drive off road, particularly on rocky terrain, the underguard protection will keep uneven rocks from damaging the components of your pickup. This accessory consists of a front, middle and rear Differential Guard.
Sliding Bed Tray
The sliding bed tray is designed to allow you to load and unload heavy items from the bed area by bringing them away from the truck. This can save time when you have to get the job done quickly and also keep your bed free from scratches and damage.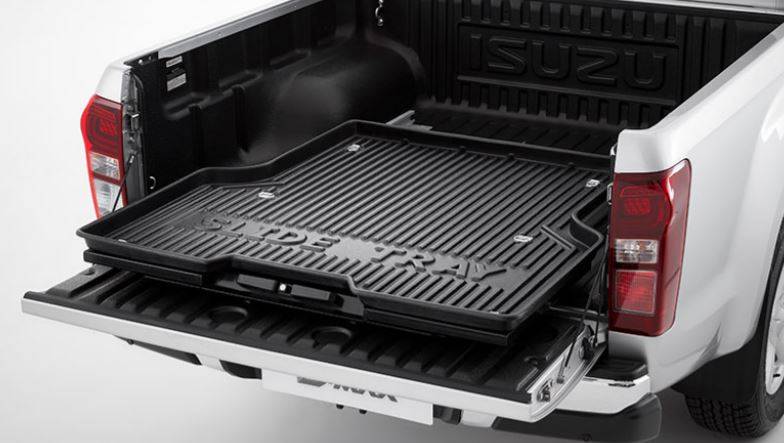 Interior Protection
As much as you want to protect the exterior of your vehicle, you will want to keep the interior of your D-Max protected as well.
Illuminated Sill Cover
Your door sill can soon become scratched simply by entering and exiting the vehicle on a regularly basis. Scratches can occur from shoes or even dog leads that hit the sill. Having an illuminated sill cover (available in red, blue and amber) will protect the original sill.
Interior Enhancements
Enhancing the interior of your D-Max allows you to customise the cabin area to your own preferences.
Pioneer Rear View Camera
If you work or often drive in busy, built up areas or even on construction sites, having a rear view camera fitted provides you with a full view of the surroundings behind your vehicle so you can reverse safely (Pioneer Sat Nav required).
Alpine Subwoofer
If you are looking for a compact subwoofer, the Alpine option will fit under or behind your seat and provides exceptional playback (compatible with Alpine 9" DAB nav unit).
Safety/ Utility
Safety is always a concern and even more so when you're working in remote areas.
Front Camera
This discrete front camera is located on the lower grille and will assist you when manoeuvring in tight spaces.
Bed Lights
If you regularly work out in the dark, having bed lights makes it much easier to see what you are loading and unloading.
Towing and Load Carrying
Part and parcel of owning an Isuzu pickup truck is knowing you will be towing and carrying at some point, if not on a regular basis. There are accessories available to make your life easier.
Aluminium Bed Draw System
This aluminium bed draw system is made up of two drawers and two storage compartments, both of which are lockable so the contents can be fully protected whilst you are on or off site.
Aluminium Double Dog Box
If you have purchase or are thinking of purchasing a pickup truck to transport your dogs in, you can benefit from an aluminium double dog box that sits in the bed area and fits 2 dogs.
Longitudinal Roof Rail Set
If you need to transport items that need to be tied down or items that you want to protect such as watersports equipment, you can opt for the longitudinal roof rail set so you can secure items outside of the bed area.
Canopy Range
There's a wide range of leisure canopies that are fitted onto the top and rear of the bed area. This means that the items you transport in the bed area are covered and protected.
These canopies are available as either a leisure or commercial options.
Load Areas Covers
There's a wide range of Isuzu load area covers to choose from, including hard lids, roll covers and roll 'n' lock covers that keep your belongings safe and secure, not only during journeys but also when parked up.
Tonneau Covers
If you just need something to protect the materials in the bed from coming loose during your journey, a tonneau cover is soft and can be placed over the edges of the load bed.
If you are looking to source any of these Isuzu accessories or want to check the compatibility with the D-Max range get in touch with your local Isuzu dealer, Warrington Isuzu.
Latest News