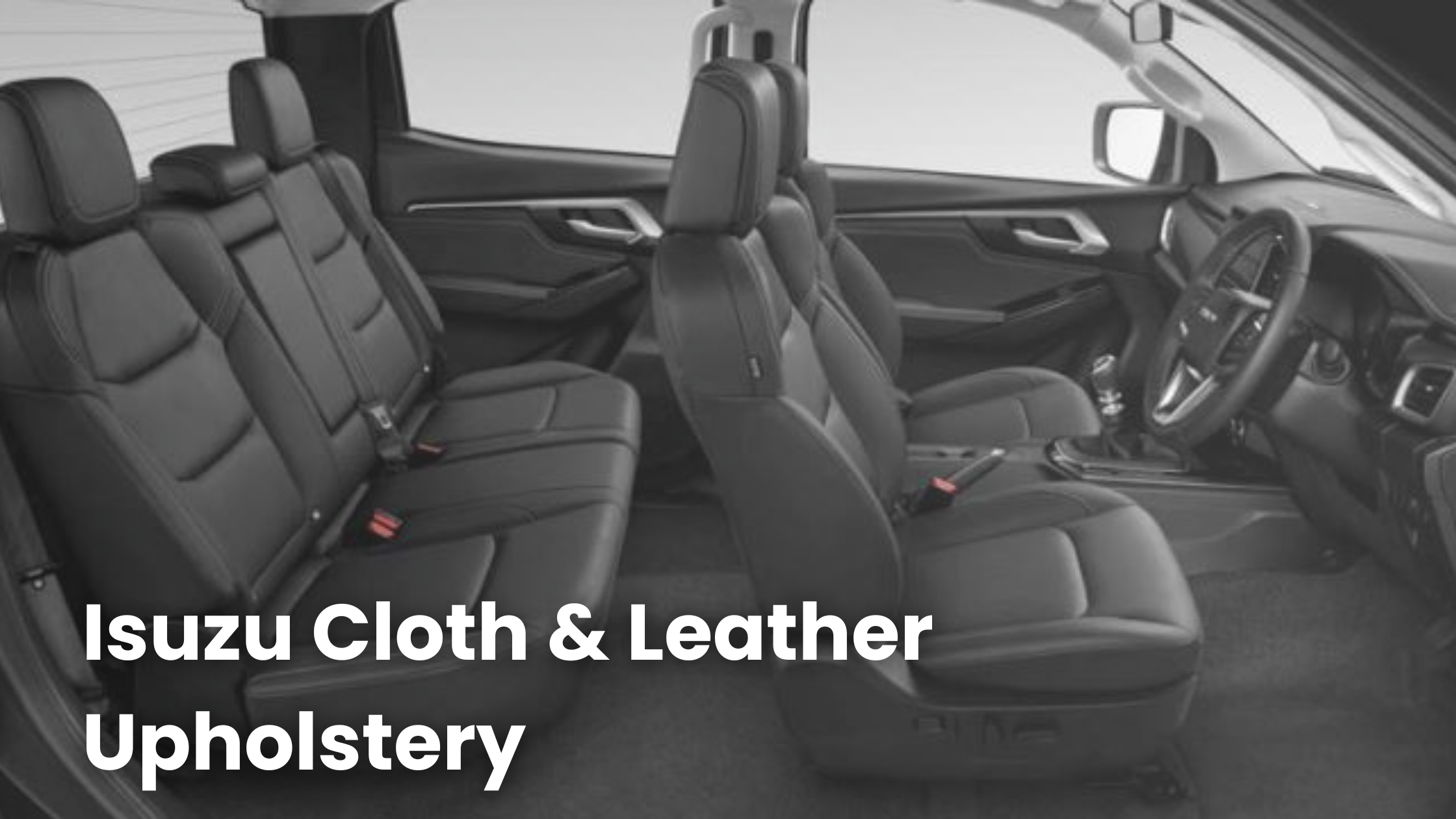 D-Max - Cloth vs Leather Upholstery Options
If you're considering the Isuzu D-Max as your next vehicle, one aspect that might be on your mind is the upholstery options. The interior of your vehicle plays a crucial role in your comfort and driving experience.
Isuzu offers a range of upholstery choices, including cloth and leather, across different trims of the D-Max. We will explore the upholstery option available for each trim level – Utility, DL20, DL40, and V-Cross – helping you make an informed decision about which option suits your preferences and needs.
Upholstery Options for Isuzu D-Max Trims
Utility Trim
The D-Max Utility trim, known for its rugged and functional design, comes standard with hard-wearing 'tricot' cloth upholstery. This fabric is designed to withstand the demands of a versatile workhorse while providing a comfortable driving experience. The Utility trim focuses on practicality, making it an ideal choice for those seeking a robust interior.
DL20 Trim
Moving up to the Isuzu DL20 trim, you'll find more refined cloth upholstery option which is a woven fabric. Isuzu has designed the DL20 with upgraded materials that offer improved comfort and style.
The cloth seats in this trim strike a balance between durability and aesthetics, catering to individuals who want both functionality and a touch of sophistication.
DL40 Trim
Stepping into the D-Max DL40 trim, you're presented with the option to upgrade to luxurious leather upholstery. The DL40 offers premium leather seats that elevate the interior to a new level of elegance. The leather not only enhances the visual appeal but also provides a more plush and comfortable ride, making it perfect for those who appreciate a touch of luxury in their everyday drive.
V-Cross Trim
At the top of the Isuzu pickup lineup, the D-Max V-Cross trim offers a range of upholstery choices to cater to diverse preferences. Isuzu understands that drivers seeking the V-Cross trim are looking for versatility and customisation, which is why they offer this high quality leather finish.

Comparing Cloth and Leather Upholstery
When deciding between cloth and leather upholstery, it's essential to consider your lifestyle and priorities. Cloth upholstery is known for being breathable and often more resistant to extreme temperatures.
On the other hand, leather upholstery exudes luxury and is generally easier to clean. Both options have their merits, and your choice should align with your preferences and how you intend to use your D-Max.
Factors to Consider When Choosing Upholstery
Comfort: Leather upholstery tends to be softer and more comfortable, but cloth upholstery is often cooler in hot weather.
Maintenance: Leather requires more specific care to maintain its appearance, while cloth is generally easier to clean.
Style: Leather offers a premium and upscale look, while cloth upholstery provides a more casual and versatile appearance.
Durability: Cloth is generally more resistant to wear and tear, making it a suitable option for trims like Utility or DL20.
Personal Preference: Ultimately, your choice will be influenced by your personal taste and priorities.
Making Your Decision
Choosing the right upholstery for your Isuzu D-Max involves considering your preferences, daily usage, and the overall aesthetics you desire. Whether you prioritise functionality, luxury, or a combination of both, Isuzu has tailored their upholstery options to provide choices that suit various needs.
The Isuzu D-Max offers a range of upholstery options across its different trims – Utility, DL20, DL40, and V-Cross. From hard-wearing cloth for the Utility trim to premium leather for the DL40 and V-Cross trims, Isuzu ensures that drivers can personalize their driving experience according to their preferences.
When making your choice, consider factors such as comfort, maintenance, style, and durability to select the upholstery that aligns with your lifestyle.
Latest News