Isuzu N75 Trucks 7.5 Tonne - Isuzu Trucks, Warrington
MODELS IN THIS RANGE: Isuzu 'N-Series' N75.150 | N75.190 7.5 tonne Trucks
The Isuzu N75 7.5 tonne truck range is renowned for their durability, payload and performance, proven reliability and are market leaders in a number of key sectors at 7.5 tonne.
What industries could benefit from Isuzu N75 7.5 tonne truck
For the last two decades the Isuzu N75 7.5 tonne trucks have provided UK operators outstanding payload carrying capacity combined with unbeatable reliability, making them ideal for distribution, local delivery, plant hire and a number of other weight- critical applications.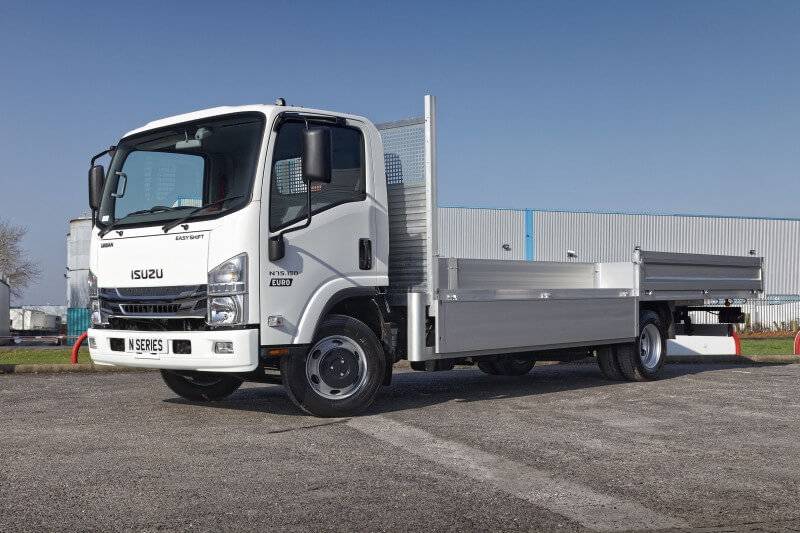 About the Isuzu N75 7.5 tonne truck
The interior of the N75 is fully configurable to your requirements, with an adjustable seat, steering wheel and there's also plenty of storge options to keep the area around the driver clear of obstructions and offering a more comfortable drive.
The important components are easily accessible, with the spare wheel within reaching distance of the back of the cab, the AdBlue reservoir and the engine coolant expansion tank. The brake fluid reservoir and windscreen washer reservoir are easily accessible via the passenger and driver doors.
The N75 cab height means there's added visibility for the driver and the windscreen can be easily cleaned to ensure a clear view at all times. The doors also open to 90 degrees, giving easy access to the cab for the driver and their passengers.
Isuzu N75 Urban vs Forward
The Isuzu N75 Forward (N75.190) truck range includes standard day cab and crew cab versions of our popular 5.2 litre Isuzu N75.190 truck, as well as manual and Easy-shift options.
Ideal for long distance journeys, the N75.190 is best suited to those who will be operating to maximum load for long periods of time. The N75 Forward also comes with an automatic gearbox which is more suited to rural environments where constant speed changes occur, resulting in less clutch wear and tear.
For customers who carry out low mileage, urban deliveries with more stops, the Isuzu N75.150 Urban, which features a more efficient 3.0 litre engine and even greater payload, may be a more suitable option. It's suitable for driving around towns and cities due to the more compact size and low, easy to access cab.
The N75 Urban (N75.150) has a narrow, non intrusive cab so can easily navigate tight city streets, so ideal for those doing door to door deliveries, both residential and commercial.
If you are planning to add your own branding, there is enough space on the cab doors and the cab front for a company logo.
The cab can easily manoeuvre by tilting forward to reveal the engine components, such as engine coolant and engine oil.
'Drive-a-way' Tippers, dropsides, curtain siders & boxes are all now part of the Isuzu N75 7.5 tonne truck range.
Both vehicles also have a designed gross train weight of 11,000kgs which means they can legally tow a trailer and load of up to 3,500kgs.
Isuzu N75 features
With the Isuzu N75 , you can benefit from a range of features and specifications:
Cab type - Day/Crew
Transmission - Manual or Easyshift
Dual airbags
Keyless entry
3,500kg towing capacity
Aerodynamic hexapod cab
For added piece of mind, the Isuzu N75 model range is also supplied with 3 Years Unlimited Mileage Warranty, 3 Years Roadside Assist & Isuzu`s award winning CARE programme.