Isuzu N55 5.5t and N65 6.5t Isuzu Trucks, Warrington
MODELS IN THIS RANGE: 'N-Series' N55.150 | N65.150 Trucks
The Isuzu N55 and Isuzu N65 trucks are heavy-duty trucks that is the ideal step up from a light commercial vehicle where more payload is required, or where towing flexibility is required instead of a conventional 7.5 tonne vehicle.
The Isuzu N55 5.5 tonne truck even has a narrow cab option, while the Isuzu N65 6.5 tonne truck comes with either a standard manual gearbox or the popular Easy-shift automated transmission. The Isuzu N55 and N65 also have the capability to tow up to 3.5 tonnes.
If your fleet will be making regular journeys into an ultra low emission zone, the N55 and N65 are compliant, meaning your costs can be kept as low as possible, saving up to £100 per day based on an older counterpart that is not ultra low emission zone compliant.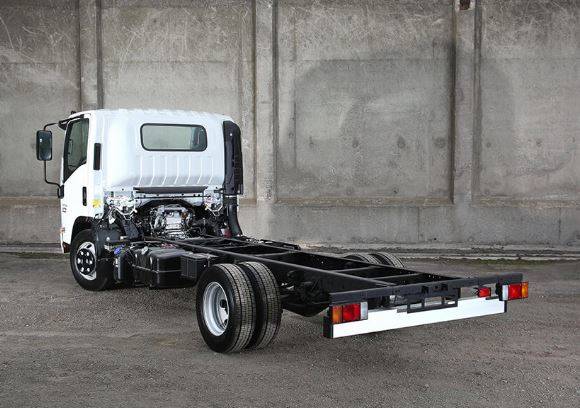 What industries could benefit from the Isuzu N55 and N65
For customers who need more payload but still want the compact cab and body design of our award- winning Isuzu Grafter range, a 5.5t or 6.5t truck could be the answer. Popular with arborists, breweries and local authorities, our Isuzu N55 and Isuzu N65 models offer a step up in payload carrying capacity without the extra size and weight normally associated with larger trucks.
Isuzu 3 Years Unlimited Mileage Warranty with 3 Years Isuzu Assist & Isuzu`s award winning CARE programme supplied as standard.
Isuzu Chassic Cab configuration
The Isuzu N55/N65 Chassis Cab configuration typically consists of a vehicle chassis with a cabin but no cargo area or bodywork in the rear. This setup allows businesses to customize the rear portion of the vehicle according to their specific needs, such as adding a flatbed, box van, refrigerated body, or any other specialized equipment.
Isuzu N-Series Chassis Cabs are popular choices among businesses and industries that require reliable and adaptable commercial vehicles, such as delivery companies, construction firms, and service providers. These vehicles are known for their durability, fuel efficiency, and ease of customisation, making them well-suited for a wide range of applications in the United Kingdom and beyond.
Isuzu N55 5.5 tonne truck specification
| | |
| --- | --- |
| Gross Vehicle Weight | 5.5 tonne/ 5,500kg |
| Maximum Trailer Weight | 3.5 tonne/ 3,500kg |
| Cab Type | Day - Narrow |
| Transmission | Manual |
| Engine Capacity | 3.0 litre diesel |
Isuzu N65 6.5 tonne truck specification
| | |
| --- | --- |
| Gross Vehicle Weight | 6.5 tonne/ 6,500kg |
| Maximum Trailer Weight | 3.5 tonne/ 3,500kg |
| Cab Type | Day - Wide |
| Transmission | Manual or EasyShift |
| Engine Capacity | 3.0 litre diesel |
Industries and applications that could benefit from the Isuzu N55 and N65:
Arboriculture
Food & Drink
Haulage
Hire & Rental
Recycling