11 Tonne and 13.5 Tonne Trucks - Isuzu Trucks, Warrington
MODELS IN THIS RANGE: Isuzu 'Forward' F110.240 | F135.240 Trucks
Both the Isuzu F110 11tonne and Isuzu F135 13.5tonne trucks are the ideal step up from the Isuzu N-Series vehicles, offering a lightweight; durable, efficient, and hardworking option at the heavier weight ranges.
The Isuzu F-Series 11tonne and 13.5tonne Isuzu trucks offer 'big truck' performance with a 'small truck' footprint. Even with their higher payload capacities, these trucks can still operate in the most demanding of operations.
The 11t Isuzu truck is available as either a manual or Easyshift gearbox, whereas the 13.5t Isuzu truck is available only with an Easyshift gearbox.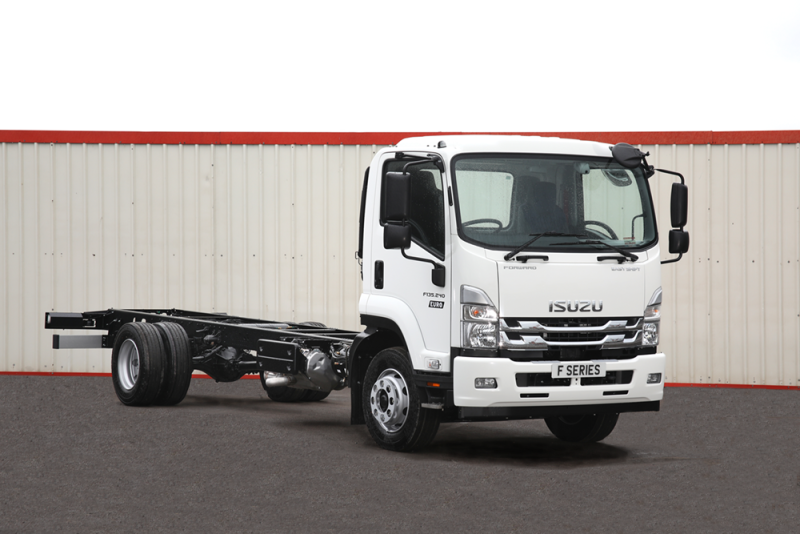 About the Isuzu F110 and F135
Tough and efficient, both have compact footprints as well as class-leading carrying capacities in excess of 7.5t and 9.5t kgs respectively (body/payload).
As with other new Isuzu trucks, the F Series is Euro VI and Low Emission Zone compliant, meaning it can be more cost effective to invest in a brand-new Isuzu truck than an older model that is not compliant in low emission zones.
The 11tonne Isuzu F110.210 is well suited to tipper and beavertail operations, but still benefits from a compact cab and lower chassis design for driver comfort and offers a 'Drive-a-way' Tipper model within the range.
The interior of the cab has been upgraded to offer a more modern look and feel, including improved upholstery and trim fabric.
Isuzu 11/13.5t features
With the Isuzu 11/13.5t, you can benefit from a range of features and specifications:
Low chassis height
Steel bumper
Keyless entry
Transmission - Easyshift or Manual
Compact cab
What industries would the Isuzu F110 and F135 suit?
At 13.5tonne, the Isuzu F135.240, offers an Easy-shift vehicle that's ideal for scaffolders, refrigeration, beavertail and box or curtain side applications. It's also ideal for medium haul and off-road applications. With the compact cab and lower chassis design, the F110 and F135 Isuzu trucks can seamlessly switch between driving in built up areas to more remote areas.
Both models are also supplied with an unrivalled 3 Years Unlimited Mileage Isuzu Warranty & 3 Years Roadside Assist & CARE programme.